Why Choose 1 Accord?
At 1 Accord, our name says it all. We strive to give harmony to our customers' workplaces. Every day, our experienced team of cleaning professionals provides commercial cleaning, floor care, post construction cleaning and water damage restoration services at millions of square feet of facilities throughout Buffalo and Western New York. In doing so, we're able to preserve the life of buildings, improve indoor air quality, reduce allergens, and create a healthier, safer, more pleasant work environment.
The best people.
Excellent service starts with a great team. At 1 Accord, we go to extremes to make sure that we hire the right people – and the best professionals for your facility. Our team is meticulously trained, from initial and ongoing education on industry best practices to regular IICRC and ISSA industry certifications. And all of our employees undergo a mandatory background check through Employment Screening Services, LLC. With 1 Accord, you can rest assured our people are equipped with the knowledge and skills necessary to clean and restore your property.
State-of-the-art technology and equipment.
At 1 Accord, we invest in the latest cleaning equipment and technology to give you the best possible results. These include cutting edge, truck mounted steam cleaners for superior carpet cleaning; the most advanced flooring cleaning and stripping equipment; and HEPA vacuums that clean better than earlier technologies.
Green cleaning products.
We are dedicated to providing the safest and healthiest environment for your staff, as well as ours. We use a variety of sustainable, EPA-approved cleaning solutions, as well as recycled paper products to deliver environmental safety and maximum performance.
Rigid controls.
Using a web-based inspection system, we can immediately detect, communicate and correct deficiencies. Customers can also make requests and then be notified automatically when the request is completed. These extra details are just our way of going above and beyond to deliver excellent service, every time.
About the Owner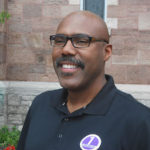 1 Accord was founded in 2008 by Sherman W. Washington, an expert in the commercial cleaning industry. Over the course of his 30-year career, he has served as an executive housekeeper in the hospitality industry and an area manager with Aramark Service Company. He has also developed cleaning programs for such large-scale facilities as the Buffalo DuPont factory and the Walden Galleria Mall.
Sherman is a noted authority in antimicrobial cleaning and air quality, and has served as a senior trainer in commercial cleaning, and cleaning procedures and applications. In 2014, he was also chosen as Entrepreneur Protégé of the Year by the University at Buffalo School of Management's Emerging Minority Entrepreneur Enterprise Program.
In the Community
The team at 1 Accord is committed to giving back to the community in which we live and work. We currently operate a mentoring program in which we educate youth in the Buffalo area about entrepreneurial essentials, including work ethic, and brand and character development. Our company also offers employment for the disabled through New York State Industries for the Disabled (NYSID).